Our 2021
Perennial

Varieties
New & Featured Varieties: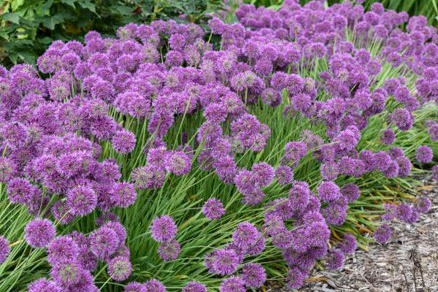 Allium Lavender Bubbles
Allium
Nearing the end of summer, this beautiful perennial brings life to a garden with its beautiful bubble-shaped flowers. Dark dusty purple flower globes are produced above attractive glaucous blue-green foliage. The leaf blades twist and curl to provide additional interest.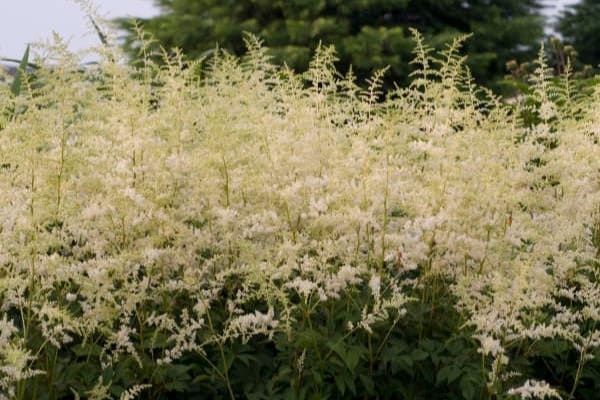 Astilbe Bridal Veil
Astilbe Arendsii
The classic white astilbe. Lacy white panicles gently droop at the tips, lending a frothy look to the clump. Blooms in early summer. Deep green, glossy foliage.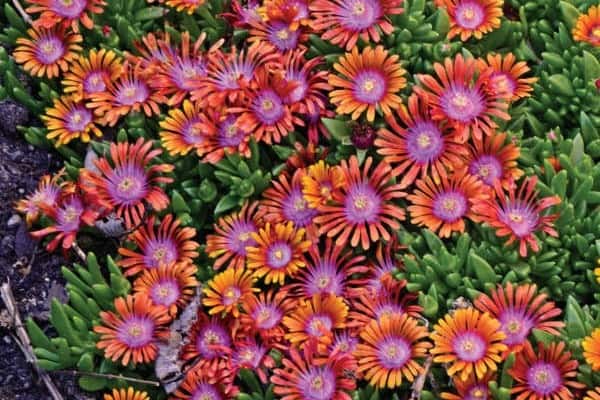 Delosperma Fire Spinner
Delosperma
Nickel-sized blossoms are apricot to bright orange with a ring of hot pink to magenta color surrounding the white eye. They are produced prolifically, blanketing the foliage from late spring through early summer and then often reblooming sporadically throughout the summer months.
ACHILLEA:
Firefly Sunshine

(proven winner variety)
AJuga
ALCEA
ALLIUM
AQUILEGIA:
ARTEMISIA SCHMIDTIANA:
ASTILBE ARENDSII
Bridal Veil
Fanal
Rheinland
Visions in Red
BAPTISIA
Decadence Lemon Meringue

(proven winner variety)

Decadence Pink Lemonade

(proven winner variety)
BERGENIA
BRUNNERA MACROPHYLLA
Jack Frost
Queen of Hearts

(proven winner variety)
BUDDLEIA
Grand Cascade
Humdinger Magenta Munchkin
Monarch Crown Jewels
Monarch Prince Charming
CALAMINTHA NEPETA
CERASTIUM TOMENTOSUM
Clematis
Avante Garde
Charmaine
Diamantina
Duchess of Edinburgh
Empress
Jackmanii
Miss Bateman
Mrs. Cholmondeley
Mrs N Thompson
Nelly Moser
Niobe
Paulie
Samaritan
Sunset
Warsaw Nike
Will Goodwin
Crystal Fountain
Kilian Donahue
Multi-Blue
Paniculata
Nubia
Piilu
Rhapsody
Samaritan Jo
Viticella Purpurea Plena Eelgans
CONVALLARIA MAJALIS
COREOPSIS
Li'l Bang Daybreak
Li'l Bang Red Elf
Li'l Bang Starlight
Moonbeam
Satin & Lace Berry Chiffon
Sizzle and Spice Curry Up
Solanna Golden Sphere
DELOSPERMA
DELPHINIUM
New Millennium Cobalt Dreams
DIANTHUS
Fruit Punch Classic Coral

(proven winner variety)

Fruit Punch Maraschino (proven winner variety)

Constant Beauty Crush Orange
Supertrouper Orange
DICENTRA
King Of Hearts
Spectabilis Valentine
ECHINACEA
Cheyenne Spirit
Color Coded Orange You Awesome

(proven winner variety)

Eye Catcher Canary
Lakota Fire

(proven winner variety)

Magnus
Purple Emperor
Sombrero Granada Gold
Sombrero Salsa Red
Sombrero Sangrita
EUPHORBIA MARTINII
GAILLARDIA ARISTATA
Arizona Apricot
Arizona Red Shades
Arizona Sun
GYPSOPHILA SUMMER SPARKLERS
Hedera
HEMEROCALLIS
Apricot Sparkles
Bela Lugosi
Born To Run
Cherokee Star
Double Pardon Me
Scottish Fantasy
Stella De Oro
HEUCHERA
Caramel
Dolce Silver Gumdrop

(proven winner variety)

Primo Black Pearl

(proven winner variety)
HONEYSUCKLE VINE
HOSTA
Age Of Gold
Cool As A Cucumber
Curly Fries
Mini Mix
Praying Hands
Shadowland Autumn Frost

(proven winner variety)

Shadowland Diamond Lake

(proven winner variety)

Shadowland Seducer

(proven winner variety)

Shadowland Waterslide

(proven winner variety)

Shadowland Wu La La

(proven winner variety)
Hydrangea Paniculata
Limelight

(Proven Winner Variety)
IBERIS SEMPERVIRENS
Alexanders White
Snowflake
KNIPHOFIA
LAVANDULA
LEUCANTHEMUM
Amazing Daisies Banana Cream

(Proven Winner Variety)

Amazing Daisies Daisy May

(Proven Winner Variety)

Superbum Becky
LIATRIS SPICATA
LIRIOPE MUSCARI
LOBELIA CARDINALIS
LUPINUS
MONARDA
Pardon My Cerise

(proven winner variety)

Pardon My Pink

(proven winner variety)

Pardon My Purple

(proven winner variety)
NEPETA:
Cats Pajamas

(proven winner variety)
PAEONIA
Bartzella
Kansas
Sarah Bernhardt
Duchess De Nemours
PANICUM VIRGATUM
Prairie Winds Cheyenne Sky

(proven winner variety)
PAPAVER ORIENTALE
Beauty Of Livermore
Prince Of Orange
PENNISETUM:
Desert Plains

(proven winner variety)
PEROVSKIA:
Denim N Lace

(proven winner variety)
PHLOX
Fashionably Early Crystal
Fashionably Early Flamingo
PHLOX PANICULATA
Luminary Opalescence

(proven winner variety)

Luminary Ultraviolet

(proven winner variety)

Red Riding Hood
PHLOX SUBULATA
Blue Emerald
North Hills
Red Wings
Violet Pinwheels
PRIMULA
Rosa
SALVIA
Fashionista Ballerina Pink
Nemorosa Bumbleberry
Nemorosa Bumbleblue
Nemorosa Bumblesnow
SYRINGA
Baby Kim
Boomerang Dark Purple
TRADESCANTIA
Red Cloud
Zwanenburg Blue
VERONICA
Magic Show Pink Potion

(proven winner variety)

Magic Show Wizard Of Ahhs

(proven winner variety)