Our 2021
Annual

Varieties
New & Featured Varieties:
Surprise Sparkle Red Petunia
Shiny flowers with novelty white sparkle pattern. Vigorous and well branched makes it suitable for basket production. Thrives in cool nights and warm days. Day length neutral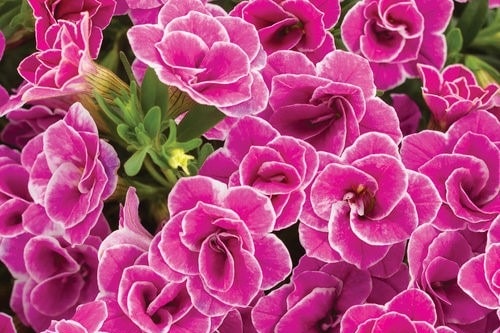 Doublette Love Swept Calibrachoa
Abundant, small double petunia-like flowers all season on cascading growth; low maintenance.  The flowers are a gorgeous deep pink, with a fine white rim on each petal.  The effect is pure heaven.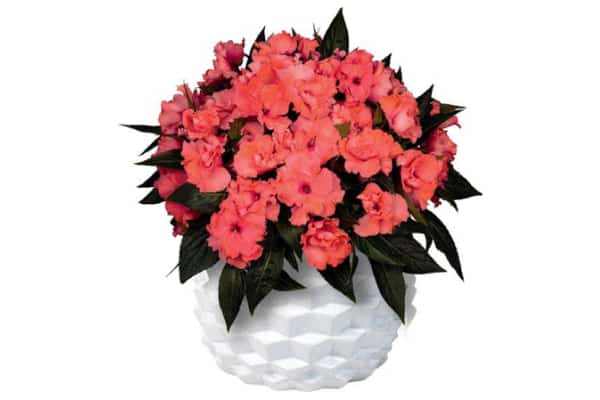 Roller Coaster Tangy Taffy New Guinea Impatiens
This variety is a standalone introduction that will provide a wild ride for 2020. It has beautiful double flowers with a ruffled edge and is made for the shade. It is a garden performer that has a medium vigor.
Acalypha
Ageratum Artist Blue
Alyssum
Clear Crystals Mix
Easter Bonnet Formula Mix
Easter Bonnet White
Angelonia
Alonia Big Bicolor Purple
Alonia Big Indigo
Alonia Big Snow
Angelface Blue Supernova
Angelface Perfectly Pink Supernova
Bacopa
Bahia Blue Sand
Betty White
Begonia
Dragon Wing Pink
Funky Mix
Double Delight Blush Rose
Double Delight Primrose
Double Up White
Dragon Wing Red
Non Stop Mocca Mix
Green Leaf Big White
I'conia Portofino Hot Coral
I'conia Portofino Hot Orange
I'conia Portofino Sunrise
I'conia Portofino Yellow
Solenia Apricot
Solenia Chocolate Orange
Solenia Dusty Rose
Solenia Velvet Red
Solenia Yellow
Hiemalis Dragone Sunset
Bidens
Blazing Embers
Mega Charm
Bracteantha
Cottage Bronze
Cottage Yellow
Calibrachoa
Superbells Blackcurrant Punch
Superbells Coral Sun
Superbells Double Orange
Superbells Doublette Love Swept
Superbells Grape Punch
Superbells Lemon Slice
Superbells Rising Star
Superbells Watermelon Punch
Aloha Kona Dark Red
Aloha Kona Fuchsia
Aloha Kona Midnight Blue
Aloha Kona Neon
Aloha Kona Sunshine
Aloha Kona Yellow
Aloha Nani Tropicana
Bloomtastic Purple
Cabrio Burgundy
Cabrio Eclipse Lilac
Calitastic Aubergine
Calitastic Gold
Calitastic Plumberry Punch
Calitastic White Improved
Minifamous Uno Double Dark Blue
Minifamous Uno Double Red
Minifamous Uno Double White Pink Whirl
Ombre Blue
Ombre Pink
Aloha Kona Hot Orange
Hula Red
Calceolaria calynopsis
Canna
Cannova Bronze Scarlet
Cannova Yellow
Cassia
Celosia
Intenz Classic
Armor Mix
Dracula
Dragon's Breath
Plumosa Kimono Mix
CleoMe
Senorita Blanca
Senorita Rosalita
Coleus
Kong Empire Mix
Kong Jr Rose
Great Falls Angel
Great Falls Niagara
Kiwi Fern
Mainstreet Alligator Alley
Mainstreet Beale Street
Mainstreet Ruby Road
Mainstreet Wall Street
Party Time Pink Fizz
Stained Glassworks Royalty
Colorblaze Golden Dream
Colorblaze Lime Time
Colorblaze Torchlight
Colocasia
Heart Of The Jungle Improved
Illustris
Cordyline
Cosmos
Cuphea
Cyperus Papyrus Alternifolis
Dahlia
Dahlietta Julia
Grandalia Dark Red
Hypnotica Icarus
Hypnotica Lavender
Hypnotica Limoncello
Hypnotica Tequila Sunrise
Megaboom Berry Blast
Temptation Orange
Venti Pink & White Eye
City Lights Purple
Dorotheanthus Mezoo
Dracaena Indivisa
Dracaena Marginata
Dianthus
Diana Lavendina Mix
Interspecif Ideal Select Mixture
Super Parfait Mix
Diascia Barberae
Dichondra
Dusty Miller
Eucalyptus
Steel Tower Supernova Thriller
Euphorbia
Diamond Mountain
Diamond Snow
Gazania
Geranium
Regal Elegance Imperial
Regal Elegance Red Velvet
Brocade Wilhelm Langguth
Calliope Large Orange Splash
Calliope Medium Dark Red
Calliope Medium Light Lavender
Ivy Great Balls Of Fire Burgundy Blaze
Ivy Great Balls Of Fire Dark Red
Scented Citrodorum
Zonal Americana Bright Red
Zonal Americana Dark Red
Zonal Americana Orchid
Zonal Americana Rose Ice
Zonal Americana White
Big Eeze Watermelon
Savannah Blue
Savannah Light Salmon
Savannah Merlot Sizzle
Savannah Oh So Orange
Gerber
Mega Revolution Select Mix
Revolution Bicolor Mix
Gomphrena
Helichrysum
Lemon Licorice
Silverstar
Heliotropium Nagano
Hypoestes
Impatiens
Accent Premium Mix
Accent Premium Red
Accent Premium White
Accent Star Mix
Double Silhouette Appleblossom
Double Silhouette Rose
New Guinea Harmony Bicolor Red
New Guinea Magnum Clear White
New Guinea Magnum Hot Pink
New Guinea Magnum Wild Salmon
New Guinea Sonic Light Lavender
New Guinea Sonic Sweet Orange
New Guinea Sunstanding Apollo Lilac
New Guinea Sunstanding Helios Magenta Borealis
New Guinea Sunstanding Helios Orange
Sunpatiens Compact Tropical Rose
Sunpatiens Vigorous Tropical Salmon
New Guinea Harmony Fuchsia Cream
New Guinea Magnum Lavender Splash
New Guinea Magnum Red Flame
New Guinea Rollercoaster Hot Pink
New Guinea Rollercoaster Red Racer
New Guinea Rollercoaster Tangy Taffy
Isolepsis (Scirpus) Fiber Optics Grass
Juncus Effusus
Lamium
Lami Dark Purple
Pink Pewter
Lantana
Bandana Cherry Sunrise
Bandana Mango
Bandana White
Bandana Yellow
Camara Gem Compact Yellow Diamond
Hot Blooded
Bandana Cherry
Bandana Rose
Havana Pink Sky
Havana Red Sky
Havana Sunset
Havana Sunshine
Lobelia
Techno Upright Dark Blue
Techno Upright White
Laguna Ultraviolet
Lobularia
Stream Deep Lavender
Stream Silver
Lysimachia
Goldilocks
Midnight Sun
Goldie
Mandevilla
Marigold
African Inca II Mix
African French Vanilla
French Anemone Safari Mix
French Crested Bonanza Mix
French Durango Outback Mix
French Super Hero Maxi Mix
Nemesia
Banana Swirl
Burgundy
Sunshine
Sunsatia Blood Orange
Osteospermum
Zion Copper Amethyst
4-d Harvest Moon
4-d Violet Ice
Daisy Purple
Margarita Orange Flare
Margarita Purple
Osticade White Blush
Tradewinds Lemon Zest
Zion Red
Pansy
Cool Wave Mix
Delta Monet Mix
Delta Premium Mix
Delta Premium Tapestry
Delta Watercolors Mix
Frizzle Sizzle Mix
Majestic Giant II Mix Blotch
Pericallis
Primavera Fuchsia
Primavera Navy Blue
Pennisetum
Purple Majesty
Setaceum Rubrum
Pentas
Lucky Star Dark Red
Lucky Star Mix
Petunia
Supertunia Black Cherry Supernova
Supertunia Bordeaux
Supertunia Honey Supernova
Supertunia Latte Supernova
Supertunia Limoncello Supernova
Supertunia Lovie Dovie Supernova
Supertunia Picasso In Purple Supernova
Supertunia Royal Velvet
Supertunia Vista Bubble Gum
Supertunia Vista Paradise
Amore Fiesta
Amore Queen Of Hearts
Crazytunia Black Mamba
Crazytunia Blackberry Cheesecake
Crazytunia Cosmic Purple
Crazytunia Moonstruck
Durabloom Purple
Headliner Crystal Sky
Headliner Dark Saturn
Headliner Electric Purple
Headliner Night Sky
Headliner Pink Sky
Headliner Starry Sky Burgundy
Littletunia Purple Blue
Pinkerbelle
Potunia Blueberry Muffin
Potunia Coral
Potunia Dark Red
Potunia Plus White
Potunia Plus Yellow
Potunia Purple Halo
Potunia Yellowstone
Ray Black
Splash Dance Magenta Mambo
Starlet Pinot Red
Surprise Moonlight Bay
Sweetunia Black Satin
Sweetunia Coral Flash
Sweetunia Fiona Flash
Sweetunia Miss Marvel
Veranda Compact Double Lavender
Veranda Compact Double Rose Pink
Amore Heart & Soul
Crazytunia Blackberry Jam
Crazytunia Cherries Jubilee
Crazytunia Iced Berry
Durabloom Blue Vein
Durabloom Watermelon
Itsy Magenta
Main Stage Glacier Sky
Ray Bordeaux
Ray Pistachio Cream
Starlet Velvet
Blanket Blue Star
Capella Indigo
Capella Ruby Red
Capella White
Crazytunia Lucky Lilac
Surprise Love Pink
Wave Easy Blue
Wave Easy Plum Pudding Mix
Wave Easy Red Velour
Wave Easy Silver
Surprise Sparkle Blue
Surprise Sparkle Burgundy
Surprise Sparkle Magenta
Surprise Sparkle Purple
Surprise Sparkle Red
Surprise Yellowstone
Big Deal Pinkadilly Circus
Peppy Red
Portulaca
Sundial Mix
Mojave Mix
Duna Colorblast Double Guava
Duna Colorblast Double Magenta
Duna Colorblast Double Yellow
Duna Colorblast Lemon Twist
Duna Colorblast Mango Mojito
Duna Colorblast Watermelon Punch
Pazzaz Nano Purple
Pazzaz Nano Yellow
Colorblast Double Scarlet
Preplanted Combinations
Against The Sun
Blue Blast
Bombshell
Buckle Up
Caramel Blossom
Decadent
Decked Out
Do The Jive
Do You Lilac It?
East Coast Swing
Eclipse Of The Sun
Enchanted Garden
Energy & Life
Fireworks
Hypnosis
Just Juicy
Midnight Romance
Rockin' Out
Spooktacular
The Flamenco
Confetti Gdn Trio Aloha Kona Hawaiian Summer
Confetti Gdn Trio Mix Fireflash
Confetti Gdn Trio Mix Marvelous Treasure
Confetti Gdn Trio Mix Peppermint Candy
Confetti Gdn Trio Mix Purple Halo
Confetti Gdn Trio Mix Shocking Blue
Confetti Gdn Trio Safari Evening
Confetti Gdn Trio Safari Still Water
Confetti Gdn Trio Tone On Tone Bel Air Red
Confetti Gdn Trio Aloha Kona Hawaiian Hoku Star
Confetti Gdn Trio Bidy Nightlights
Confetti Gdn Trio Havana Sky
Confetti Gdn Trio Mix Blaze Of Glory
Confetti Gdn Trio Mix Blue Danube
Confetti Gdn Trio Mix Great Falls
Confetti Gdn Trio Mix Oktoberfest
Confetti Gdn Trio Mix Pirates Beauty
Confetti Gdn Trio Mix Pumpkin Spice
Confetti Gdn Trio Safari Sahara
Confetti Gdn Trio Safari Spring
Confetti Gdn Trio Tone On Tone Shocking Storm
Confetti Gdn Trio Tone On Tone Sunshine
Kwik Kombo Love Potion Mix
Kwik Kombo Night In Pompeii Mix
Kwik Kombo Royal Gold Mix
Kwik Kombo Sanguna Salute Mix
Kwik Kombo Surfer Chick
Trixi Combo Liners Chemical Attraction
Trixi Combo Liners Double Date
Trixi Combo Liners Geisha Girl
Trixi Combo Liners Liberty Bell
Trixi Combo Liners Old Glory
Trixi Combo Liners Popular Demand
Trixi Combo Liners Strawberry Shortcake
Garden Party 'aria Yankee Diva'
Garden Party 'eaton Canyon'
Garden Party 'hula Dance'
Garden Party 'abbey Road'
Garden Party 'purple Lights'
Garden Party 'white Lights'
Salvia
Splendens Vista Mix
Splendens Vista Red
Sallyfun Blue Bicolor
Velocity Blue
Black-blue
Skyscraper Orange
Scaevola
Surdiva Blue Violet
Surdiva Fashion Pink
Surdiva White Improved
Snapdragon
Candy Tops Mix
Garden Standard Liberty Classic Mixed
Garden Standard Liberty Classic Yellow
Garden Standard Rocket Mix
Snaptini Mixed
Thunberia
Verbena
Empress Flair Burgundy
Empress Flair Violet Blue
Lanai Compact Lime Green
Lanai Upright Twister Rose
Lascar Dark Red
Lascar Mango Orange
Vanessa Compact White
Vinca
Cora Cascade Mix
Cora XDR White
Pacifica XP Bold Mix
Pacifica XP Mix
Titan Summer Breeze Mixture
Cora XDR Mix
Vinca Major
High Color
Maculata
Wojo's Jem
Viola
Penny Lane Mix
Sorbet XP Spring Select Mix
Zinnia
Elegans Dreamland Mix
Elegans Magellan Mix
Elegans Short Stuff Mix
Zahara Double Mix
Zahara Mix